I thought i had already posted a lil write up on this but cant seem to find it.. But here is a lil run down. I cant remember exactly what wires are needed off the top of my head on a stripped harness(stripping is optional)
1. Fcr carb and kx head boot(as far as i know any fcr from a 450 will work) i used the 06-08 kx450 carb.
2 procom ecu
-Installed carb and it sticks up a lil bit(into the tank) i heated it up and made a lil dent for clearance. #pic 1#
-the throttle cable "threads" are too wide to fit on fcr so i flattened two sides of it to make it work.. Pretty sure if you want you can buy a motion pro for a ltz400 that converts to a fcr. Or save $25 like i did. #pic 2#
-removal of fuel pump is needed. Then chop off the neck of it. Or get something made up like i did with a on/off valve.. Nelsons precision made the plate. I had the plate milled out to fit a 22mm bung(being made as one piece would be nice) if nelsons is willing to do it i can send them my plate back. 22mm petcocks are pretty common. I bought a golan. #pics 3-5#-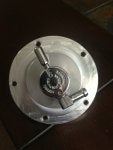 -that is all that is needed...Obviously Jetting is on you according to mods..