Discussion Starter
·
#1
·
Well Id like to say a few things. All these pulls were made within two hours and given proper cool off and no tuning was done. I tried as many combos as I could with time permitting. This is my good friends bike and its on its third tank of 93 octane. Its had the oil changed to spectro 10w40.
Here is the best pull it made stock. 40.67whp 28.35trq.
Here is the stock pull vs. cork out. You will be suprised as I was. Moral is leave the cork in. 40.67whp 28.35 trq. vs. 38.45whp 28.32trq.
Here is stock vs. lid off. Good gains. 40.67whp 28.35trq. vs. 42.75whp 31.27trq.
Finally here is lid off vs. taking the screen out with the lid off. Not much increase. 42.75whp 31.27trq. vs. 42.84whp 31.20trq.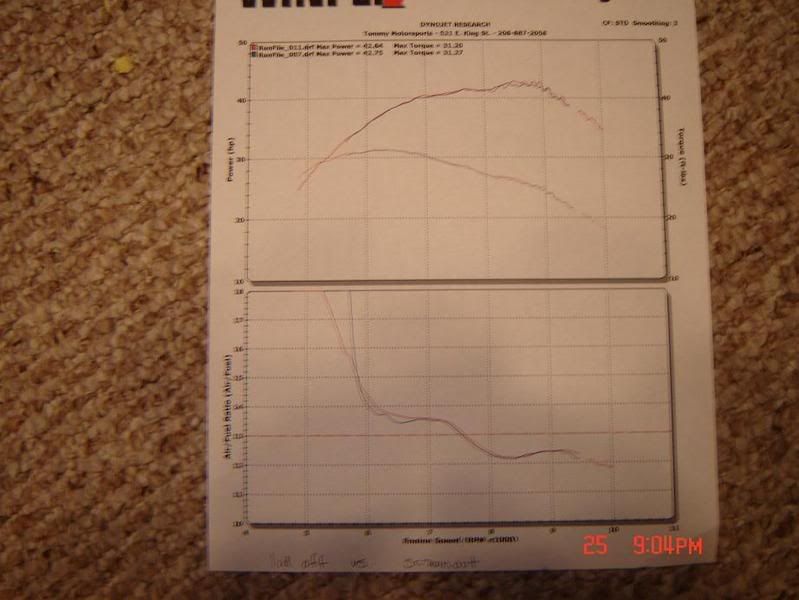 The bike ran really rich in the top end and really lean in the bottom end. Power commander is in order for sure. Im guessing with tuning 45-46whp is about where it would have came out. Real close to where an ltr dynos on this dyno with lid off, cork out and cherrybomb. I rode this bike today and it felt damn good. Overall good feel and we have big plans for it. More to come.